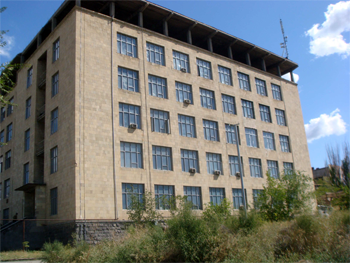 A successor to the Soviet Institute of Specialty Chemicals and High-Purity Reagents, Armenian Institute of Applied Chemistry "ARIAC" (Yerevan, Armenia) is a closed joint-stock company established in 1975. Our history alone makes us one of the most science intensive manufacturers on the market, with more than 60 PhD chemists and researchers working in our facilities.
Currently, the major classes of organic compounds available on both laboratory and commercial scales include:
Heteroatom-containing organic compounds of various functionality, such as alcohols, carbonyl compounds, carboxylic acids, nitro compounds, amines, alkyl halides;
Sulphur- and phosphorus-containing chemicals;

Metal-organic compounds;

Heterocyclic compounds;

Composition materials;

Biologically active compounds and means, such as diagnostic kits, solutions for dialysis and antiseptic formulations.
ARIAC is also an experienced developer and manufacturer of raw materials for the pharmaceutical industry. All our catalogues and website catalogue represents only small range of materials we can supply. Alternatively, we can also build full manufacturing facilities for our clients to produce everything onsite. We can also develop technological and manufacturing processes for production of almost any chemical materials for our clients.
Technological basis of ARIAC is developed and tested in the fragmentary experimental production concept of modular, easily transformable systems that allow for chemical reactions with different aggregate states of the reactants (gas, liquid, solid phase) in any combination and a wide temperature range (- 25 C to 250 C).
Our approach in custom manufacturing is simple: tell as what you need (including full specifications) and let our scientific team work on it.